May 14, 2018
Spread the word, tell your friends - Charlie is coming back for one more night!
It's official, one of Fair Lawn's favorite sons is returning for one last show.
More show!!  More friends!!  More money to help fight cancer!!
Come celebrate (again) with Charlie Schlatter and some fantastic old friends and let's help Charlie beat the crap out of Leukemia and Lymphoma.
Fair Lawn came through for Charlie last time in such great form, so now, as we near the end of his LLS campaign, let's doing it again. 
Come and join us for  "An Evening with Charlie Schlatter & Friends Part II - Forbidden Fair Lawn" on Friday, May 25th at 7 PM at the Fair Lawn Community Center Theatre.
This time there are two types of tickets. 
Regular Show Tickets  - $30
VIP Show with Reception Tickets - $50
Includes show + post-show reception catered by Chef Christine Nunn of Picnic Catering
BE SURE TO USE THE  ***DONATE NOW*** BUTTON
ON THE RIGHT SIDE OF THIS PAGE.
The list of donors generated from this page will serve as the guest/ticket list.
PLEASE, in the MESSAGES/COMMENTS section let us know how many and what type of tickets you are purchasing.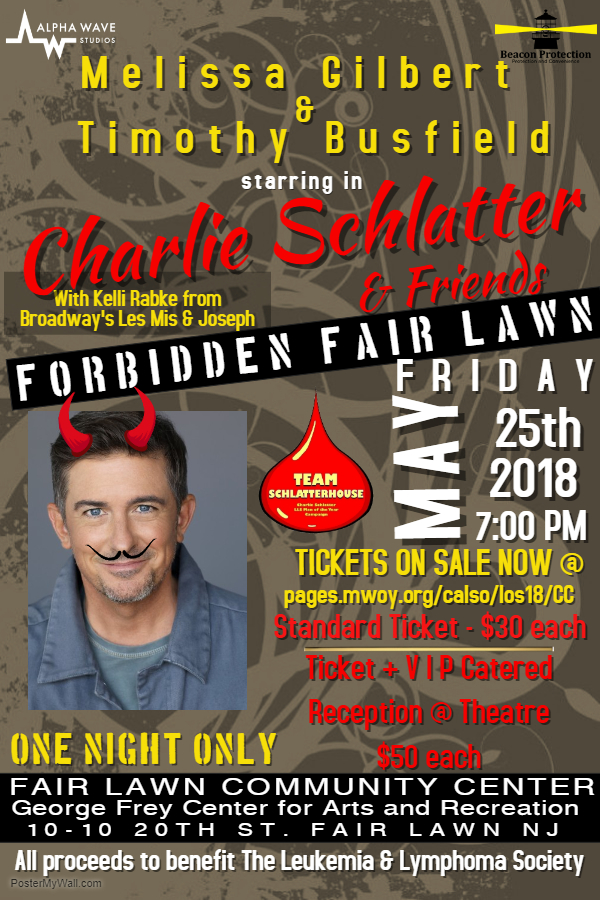 Hello,
Several years ago, my dear friend, Charlie Schlatter's, life was threatened when he was diagnosed with Leukemia. When I heard the news was like a punch to my heart.  He wanted to keep the information to a limited few, and I respected his decision. Well, the news is out now.
The average person has around 7,000 white blood cells in their body; Charlie had 336,000.  He was diagnosed with Chronic Myeloid Leukemia. He's not cured. There is no cure, but he's being treated and managed and has a great outlook.
This year, Charlie has been nominated for the 2018 Man & Woman of the Year Campaign for the Leukemia & Lymphoma Society, and I am trying to help him raise both money and awareness.  Over the next 10 weeks, every dollar that is raised in his name (between March 26th and June 8th) will count as one vote towards his man-of-the-year-ness.  
TEAM SCHLATTERHOUSE needs your help.  Our fundraising goal is $336,000 - one dollar for every white blood cell that was in Charlie's body. 
LLS has funded over $1 Billion dollars into cancer research—and it was LLS-backed research that developed Gleevec, the drug that has kept Charlie alive.
Over the past 10 years, more than HALF of the new cancer treatments and drug therapies have come from LLS funded research; and let's face it we've all been touched by family and friends that have battled cancer - all too often.
Help us. Come to the show and help support TEAM SCHLATTERHOUSE.
This is your opportunity to save another friend, or father, or husband, or wife, or parent, or partner, or child.  If you know me at all, I hate to ask - when my brother died of cancer, I never asked - when my mother died of cancer, I never asked.  This time, I am asking.
If LLS had a dollar for everytime a person from Charlie's hometown mentioned him in conversation, Charlie would win this thing several times over.  Please help make that happen.
Matthew Gitkin, and I am asking for a friend...
PS. Does your company have a matching gift program that might be willing to match your donation?
All donations are 100% tax deductible. LLS's Tax ID # is 13-5644916.