Mar 21, 2019
Cancer is a dreaded word and something I am far too familiar with having lost both of my parents, two grandparents, and many other family members and close friends to cancer. At the age of 59, I lost my dad to lymphoma on the brain. It's one of the most rapidly growing forms of cancer, and it certainly was in his case. From the onset of his symptoms, he only lived 31 days, which is typical with his diagnosis. That is terrifying! Imagine you or a loved one receiving this diagnosis and knowing you have such a short time. Imagine being told your symptoms will progress so quickly that, within a matter of days, you'll likely not even know who you are or who your loved ones are. That's what happened to him. This disease is horrible, and what the patient and their family endures is gut-wrenching. With any kind of cancer, there is always a very present fear of the inherited risks for their blood relatives. Having lost my mom to breast cancer and my dad to lymphoma, my siblings and I will never live without the, "What ifs." This is one of the reasons I'm so eager to help fund research to put an end to this disease.
Now let me tell you about my dear friend, Jenna Whitehead, who is the reason I share my story with you. Jenna's husband, Willie, has battled not once but twice and conquered leukemia. Jenna was his advocate, his caregiver, and a WARRIOR for him in every way. She went to battle like I've never seen and is the strongest woman I know. I always knew she was a tough cookie when it came down to it but her huge heart and loving, giving spirit are just some of the reasons my family adores her.  I met Jenna when she was my daughter's first grade teacher but due to some necessary staffing changes, she moved to 2nd grade mid year and my daughter was devastated. I think it was the toughest, most tear filled week my daughter has ever had. But then the following year, she got Mrs. Whitehead again for 2nd grade. That was the happiest first day of school ever! Through the years, Jenna and I have formed a very close friendship and one that I treasure. We all absolutely love her precious family and we've shed many sad and happy tears throughout their Leukemia battle. Jenna has a heart so passionate about helping others, she impacts every life she touches, and she WILL make a difference in the fight against Cancer. Will you please consider helping Team "THE WILL TO WIN" and LLS beat Cancer?
*****PLEASE TAKE A FEW MINUTES TO READ A HEARTFELT LETTER FROM JENNA BELOW.*****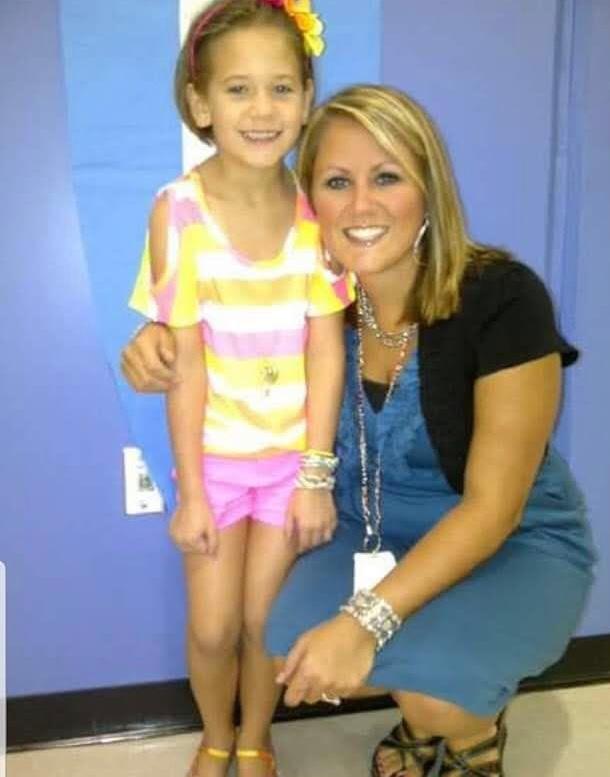 REUNITED AND IT FEELS SO GOOD!!!  This was Grace's first day of 2nd grade reunited with her favorite teacher ever.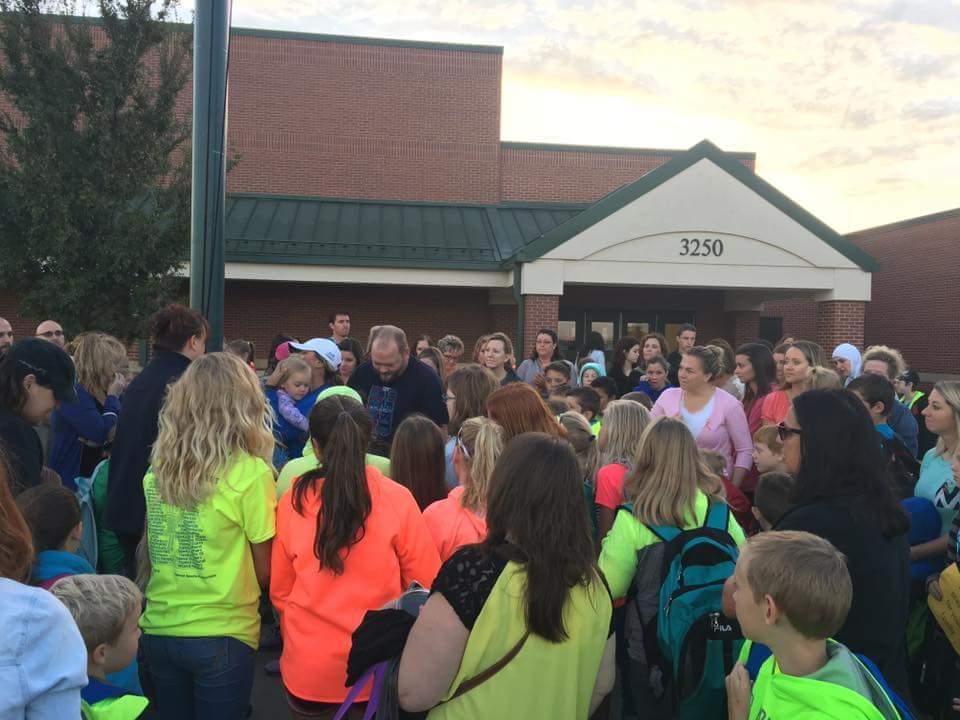 Our school family gathered at the flag pole to pray over Willie & Jenna as they prepared
  to separate their family & head to KC for months of treatment.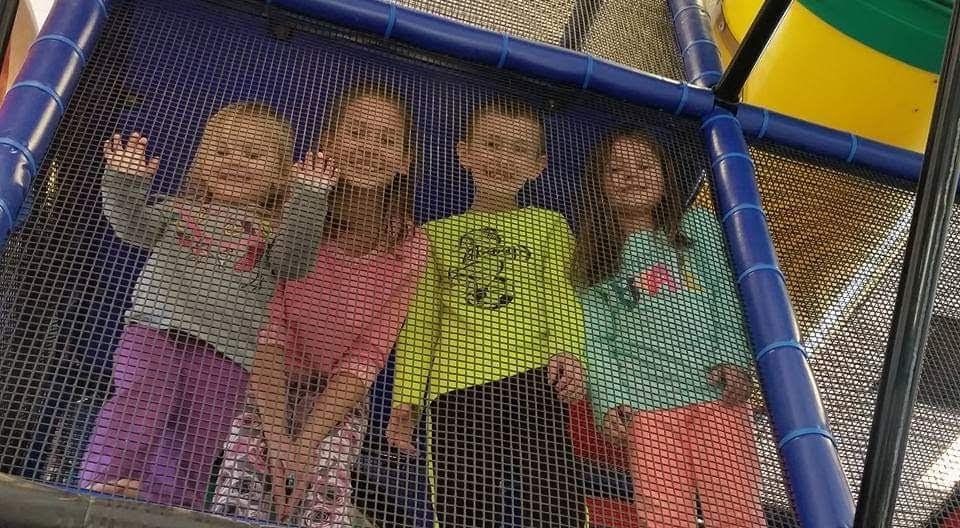 We were able to keep the Whitehead girls & take them for a fun day while mom and dad were stuck in KC for treatment.     
       Proudly wearing our "The Will To Win" shirts the day of Willie's cord blood transplant.
Dear family and friends,
I come before you honored and humbled to have been nominated to run as a candidate in the "Man & Woman of the Year" LLS fundraising campaign for 2019. I have accepted this nomination because of a personal passion to see blood cancers eradicated from this earth. Just like many of you, I had watched blood cancers from afar wreak havoc in the lives of people I knew, but one day in 2015, I gained a front row seat.
My life was changed and my heart broken on August 7, 2015 when my husband William (Willie), just shy of 31 years old, was diagnosed with Acute Lymphoblastic Leukemia (ALL). Some of the heart breaks I experienced throughout Willie's Leukemia battle are the fuel behind my campaign. I pray no parent, spouse, sibling, or child ever has to experience the many heart aches of having a loved one with a blood cancer brings. The worry that comes with every blood transfusion to replace the healthy cells the chemo destroys. The daily pain of watching an independent person become completely dependent on someone else to care for them. The immeasurable feeling of hopelessness when hearing the words "relapse", "bone marrow transplant", or "chemo resistant chromosome." The heartache of having to travel to receive treatment many hours from home for months on end--separating a family for not only daily life, but holidays, birthdays, and all special occasions. The despair that comes with hearing a medical professional relay the message that a loved one "is alive, but his heart stopped," due to side effects from the chemo. The overwhelming grief young children experience while dealing with the fear of losing their sick parent. These agonizing situations are my story, but praise God it doesn't end there! 
After Willie endured the long process of a cord-blood transplant, my heart was mended, yet never the same. We have heard the words, "CANCER FREE" for two years now, and while my heart rejoices at the sweet sound, it also breaks for the many people whose situations do not end with those priceless words. All of this and more is what drives my passion to support LLS. I truly believe in my heart that Willie is alive today because of the grace of God and the $1.2 billion that LLS has invested in blood cancer research. Research that possibly led to the cord-blood transplant, which delivered his cure and gave us our life back. In 2018 alone, LLS helped advance 19 of the 21 blood cancer therapies approved by the FDA, which are also being used to treat all types of cancer. Without the funding for this research, it is possible that my husband wouldn't have survived his battle with leukemia. 
That is why I am running and why I fight. I am fighting for people like my own personal Leukemia Warrior and Hero--my husband. I am fighting for the victories being won, the battles being lost, and for more patients and families to hear those beloved words, "CANCER FREE!" Will YOU join me in this fight against blood cancer? My team "The WILL to Win" and I have set a huge goal of $40,000+ and we are asking you to partner with us by donating to our campaign. You can be confident that 100% of your tax-deductible donation will go directly to research and supporting blood cancer patients and their families. Every dollar given brings us closer to our goal and closer to a world without blood cancer!
Thank you for your support and consideration,
Jenna Whitehead
#theWILLtowin