Mar 20, 2019
Dear Friends and Family,
My dear friend,  Jenna Whitehead has asked me to be a part of her campaign for Man and Woman of the Year for LLS. I accepted without hesitation. Jenna was Tayten's teacher in elementary school. We became instant friends. To know Jenna and Willie is an honor, to be friends with them is a blessing. Her story is at the bottome of this page. From my perspective it was heartbreaking to hear the news of Willie's diagnosis. With him being a dear friend and knowing his beautiful wife and daughters, thinking of him at such a young age being faced with the battle he would face just hit home. I
have been a supporter for LLS for 20 years, many of you know Jake's dad passed away when Jake was just 8 years old of Hodgkins Lymphoma. Many of you may not know that we had a scare when Tayten was just 2 years old. The doctors thought that he had bone cancer. While we were in the hospital for testing we met a sweet boy in the play room. Tayten played with him while his mother and I visited. While visiting with this other scared mommy I learned that our boys were only 1 day apart in age. At that moment 2 scared mommy's talking and comforting each other and making small talk in hopes that neither of us would hear those awful words "your child has cancer".I was fortunate to not hear those words. That mama of that sweet boy was not as fortunate that day. I hugged her tight and told I would pray for her. and I did and still do. I didn't see her again or even know her name until I was selected 4 years later to be on a friends campain team for LLS MWOY. That sweet boy I met in the hospital who I had prayed for just happened to be Boy of the Year for LLS that same year. His mama who is now a dear friend and I immediately embraced and cried. JC Delamore went to be with our Lord last May at the young age of 13.  My heart hurts everyday for my dear friend Angie Delamore. 
 In honor of Willie and in memory of my children's grandfather and Sweet JC Delamore, I humbly ask you to consider donating to Jenna's campaign to help make a difference in winning the fight!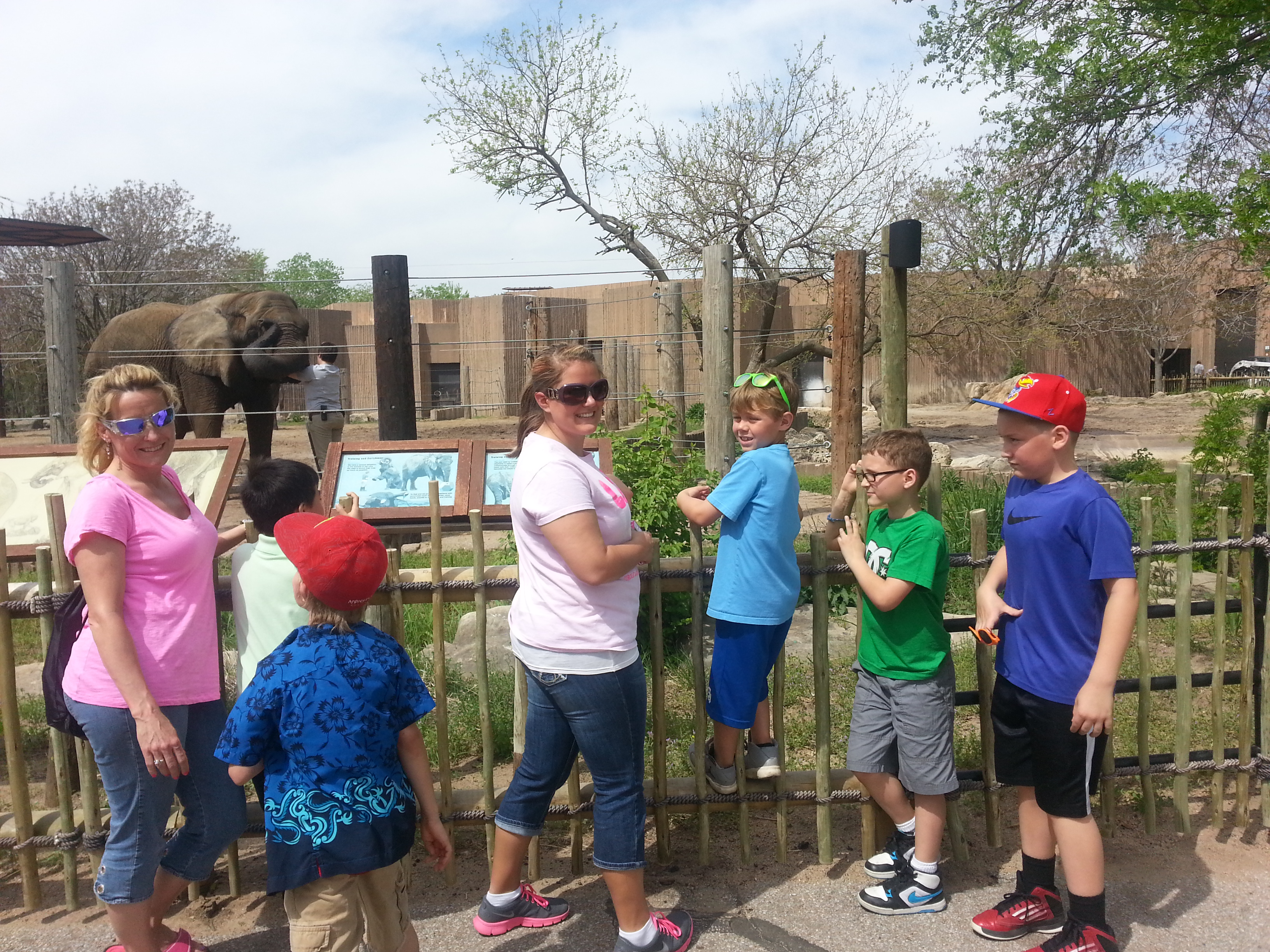 2nd Grade Zoo Trip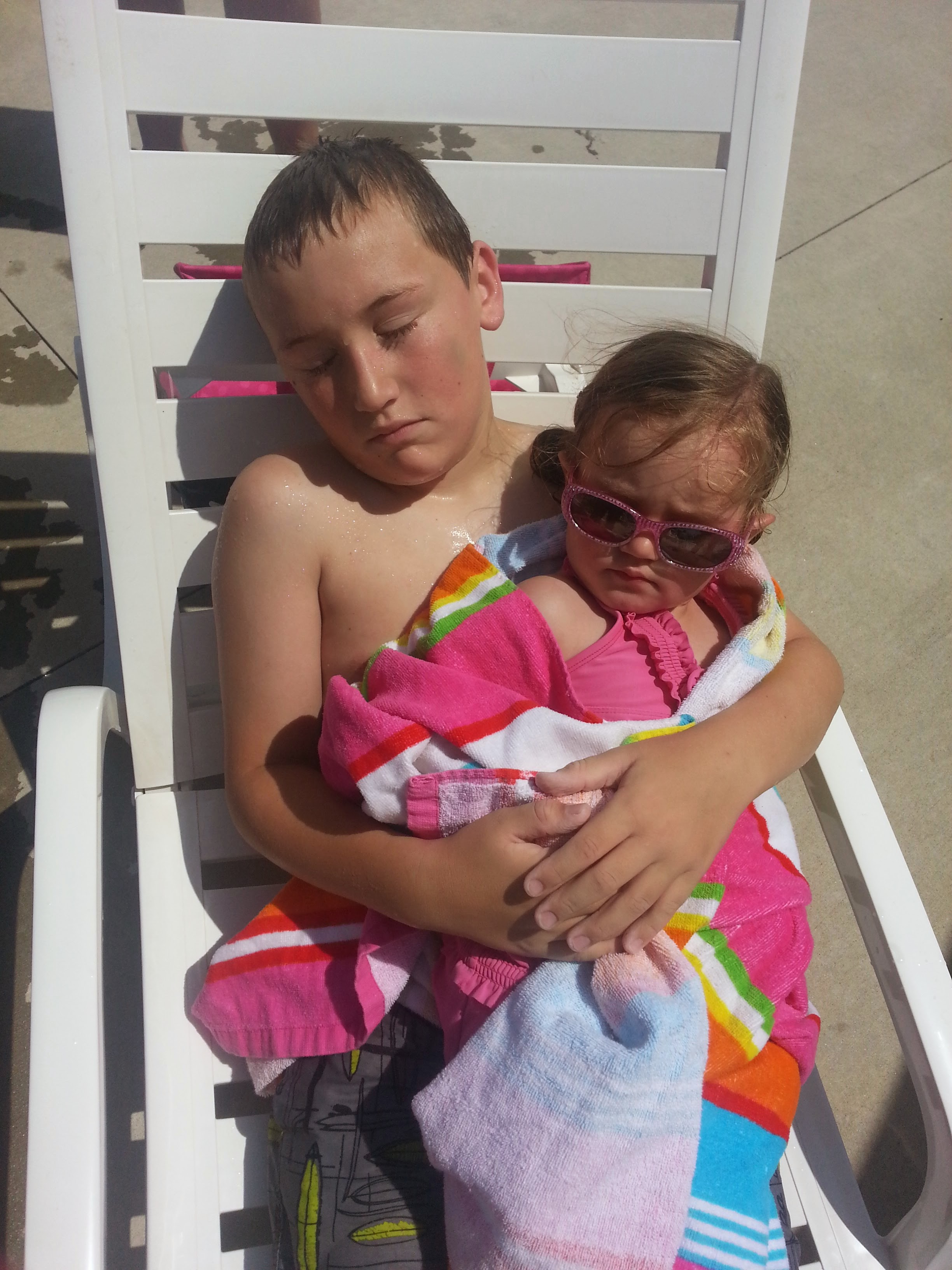 Tayten with Addy (Willie and Jenna's 1st born) 
Jenna's Story:
My life was changed and my heart broken on August 7, 2015 when my husband William (Willie), just shy of 31 years old, was diagnosed with Acute Lymphoblastic Leukemia (ALL). Some of the heart breaks I experienced throughoutWillie's Leukemia battle are the fuel behind my campaign. I pray no parent, spouse, sibling, or child ever has to experience the many heart aches of having a loved one with a blood cancer brings. The worry that comes with every blood transfusion to replace the healthy cells the chemo destroys. The daily pain of watching an independent person become completely dependent on someone else to care for them. The immeasurable feeling of hopelessness whenhearing the words "relapse", "bone marrow transplant", or "chemo resistant chromosome." The heartache of having totravel to receive treatment many hours from home for months on end--separating a family for holidays, birthdays, and all special occasions. The despair that comes with hearing a medical professional relay the message that a loved one"is alive, but his heart stopped," due to side effects from the chemo. The overwhelming grief young children experience while dealing with the fear of losing their sick parent. These agonizing situations are my story, but praiseGod it doesn't end there!
After Willie endured the long process of a cord-blood transplant, my heart was mended, yet never the same. We have heard the words, "CANCER FREE" for two years now, and while my heart rejoices at the sweet sound, it also breaks for the many people whose situations do not end with those priceless words. All of this and more is what drives my passion to support LLS. I truly believe in my heart that Willie is alive today because of the grace of God and the $1.2 billion that LLS has invested in blood cancer research. Research that possibly led to the cord- blood transplant, which delivered his cure and gave us our life back. In 2018 alone, LLS helped advance 19 of the 21 blood cancer therapies approved by the FDA, which are also being used to treat all types of cancer. Without the funding for this research, it is possible that my husband wouldn't have survived his battle with leukemia.
That is why I am running and why I fight. I am fighting for the victories being won, the battles being lost, and for morepatients and families to hear those beloved words, "CANCER FREE!" Will YOU join me in this fight against blood cancer? My team "The WILL to Win" and I have set a huge goal of $40,000+ and we are asking you to partner with us by donating to our campaign. You can be confident that 100% of your tax-deductible donation will go directly to research and supporting blood cancer patients and their families. Visit https://www.thewilltowin.org to give online, or give by cash or check and use the enclosed envelope to mail your donation. Every dollar given brings us closer to our goal and closer to a world without blood cancer!
I have joined a team that is driven to find cures for blood cancer. Our team is working to raise as much as possible over the next 10 weeks. Every dollar we raise counts as one vote for my team's candidate. The candidate whose team tallies the most votes earns the prestigious title of "Man or Woman of the Year".  
As you know, though, everyone wins when cancer loses. Thanks to your support, my efforts will help fund therapies and treatments that are saving lives. Over the years, support from people like you has been responsible for the blood cancer advancements that have doubled, tripled, and in some cases quadrupled the survival rate for some blood cancers.
Many LLS supported therapies not only help blood cancer patients, but are also now used to treat patients with rare forms of stomach and skin cancers and are in clinical trials for patients with lung, brain, breast, pancreatic and prostate cancers. And LLS funded drugs like targeted therapies and immunotherapies are now saving thousands of lives every day.
We really are getting close to our goal of a world without blood cancers!
All donations are greatly appreciated and tax deductible. They'll not only support LLS research, but patient services, advocacy, public and professional education, and community services as well.
Please visit my website often and tell friends who would also like to donate!
On behalf of blood cancer patients everywhere, thank you for your support! For more information about LLS, please visit www.lls.org