Mar 25, 2019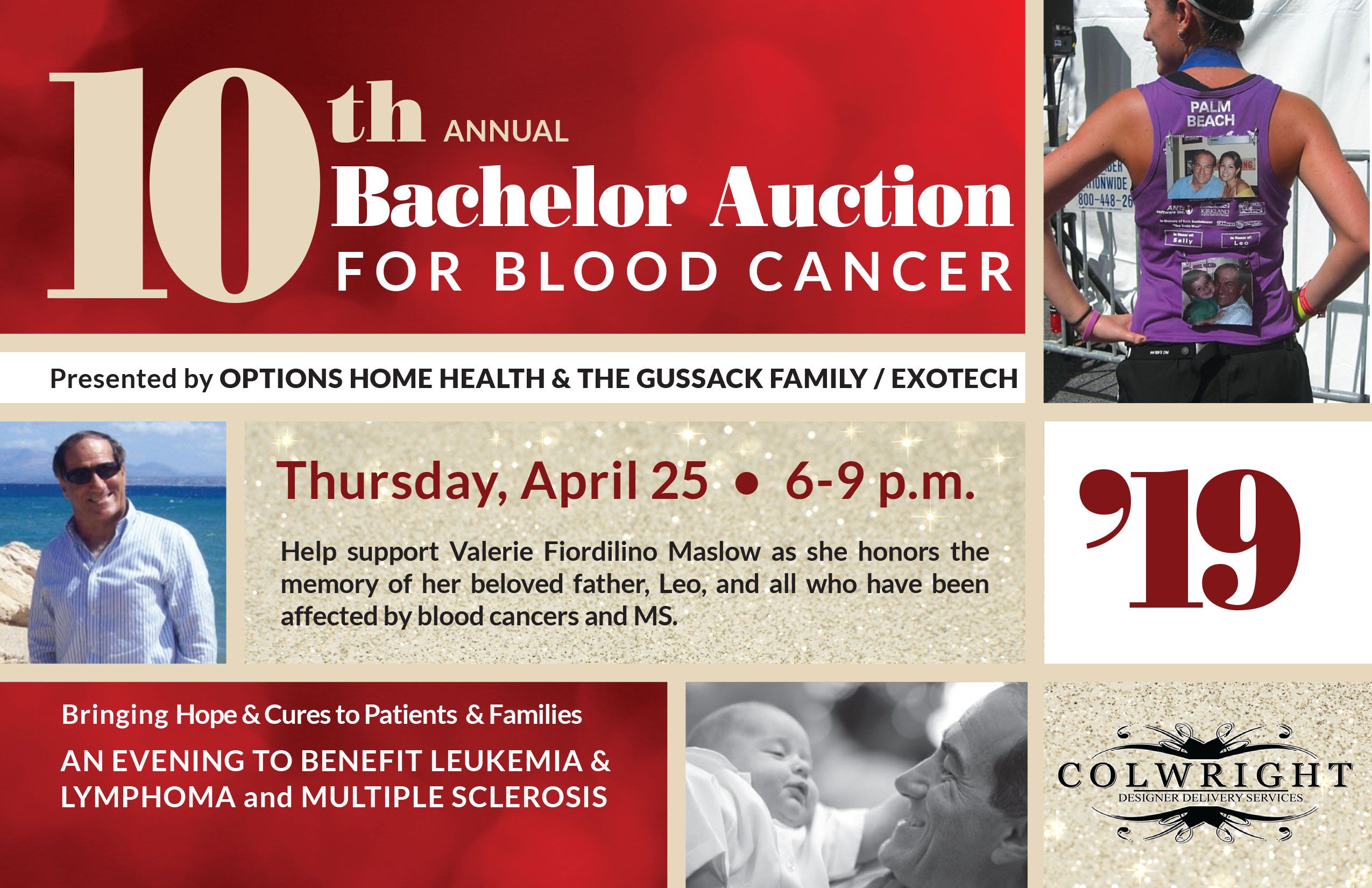 The 10th Annual Bachelor auction for Blood Cancer will be held on Thursday April 25th 2019 at 6 p.m. at Blue Martini City Place West Palm Beach. The year's presenting sponsors are: Options Home Health, The Gussack Family/Exotech and Colwright Designer Delivery Services!
Virginia Sinicki from the KVJ Show on 97.9 WRMF as well as Josh Cohen from ESPN West Palm will be returning as Master of Ceremonies. The event is hosted by Valerie Fiordilino Maslow who started the event in memory of her father who lost his battle with stage 4 Non-Hodgkin's lymphoma in 2009. 
This year's event will feature spectacular Bachelor auction packages from hotel stays in Antigua, private plane rides to the Bahamas and Courtside Heat tickets!! All are welcome to attend and bid!
Once again, we will also be featuring some heroes of Blood Cancer-- 2 local children, Leukemia and Lymphoma fighters who will be honored that night! 
Tickets on sale NOW! Discounted rate of $40 through March 14th, then $45 after and $50 at the door. Ticket includes entry to event, one complimentary cocktail and appetizer samplers. 
Limited VIP tables available! Email val_fiordilino@hotmail.com for info.
You don't want to miss the biggest night of the year!!
Thank you to our sponsors!
Option Home Health
Gussack Family/Exotech
Colwright Design Delivery Services
Alpha Media
RedLime Creative
SE Printing
Jupiter Tequesta AC and Electric
Florida Mechanical
Papa Chiropractic
Leo's Lawn Service and Landscaping
Multiparts/ The Cohen Family
Cohen Law