Feb 18, 2019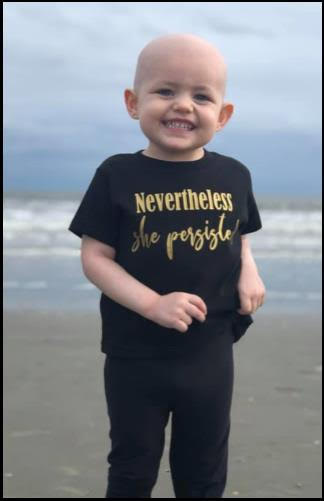 A year ago, we described Elia as exuberant, watching her leap off the couch and twirl in circles until she fell over. We called her sassy, recalling all the times she stomped her foot, pouted her lip, and planted her hand on her hip. We nicknamed her silly-billy as she made a funny face, exclaimed, "oh my goodnesses" and burst into a fit of laughter.
Then, last year Elia developed perplexing symptoms that, by April, led to our two-year-old being diagnosed with B-Cell Acute Lymphoblastic Leukemia. She has since endured ten months of chemotherapy, blood transfusions, spinal taps, and bone marrow biopsies.
We still call her exuberant, sassy, and our silly-billy - but now we call her determined, watching her struggle and succeed in climbing the stairs to her bedroom. We call her fearless, as she proudly boasts how brave she is for getting her
"tubie". We call her resilient, joyful,
and beautiful as she eagerly
shaves the remaining thinning hair
off her own head so her big girl hair
can grow in.
Elia still has over a year of treatment to go, but the one word we look forward to calling her the most is "survivor".